Thai Tea
A cup of spiced Thai Tea is perfect for breakfast or with dessert. This AIP Thai Tea is naturally flavored with a few spices and is absolutely delicious served on its own or with steamed coconut milk. This tea can be served hot or cold, so you can enjoy it year-round!
Thai Tea Made With Natural Ingredients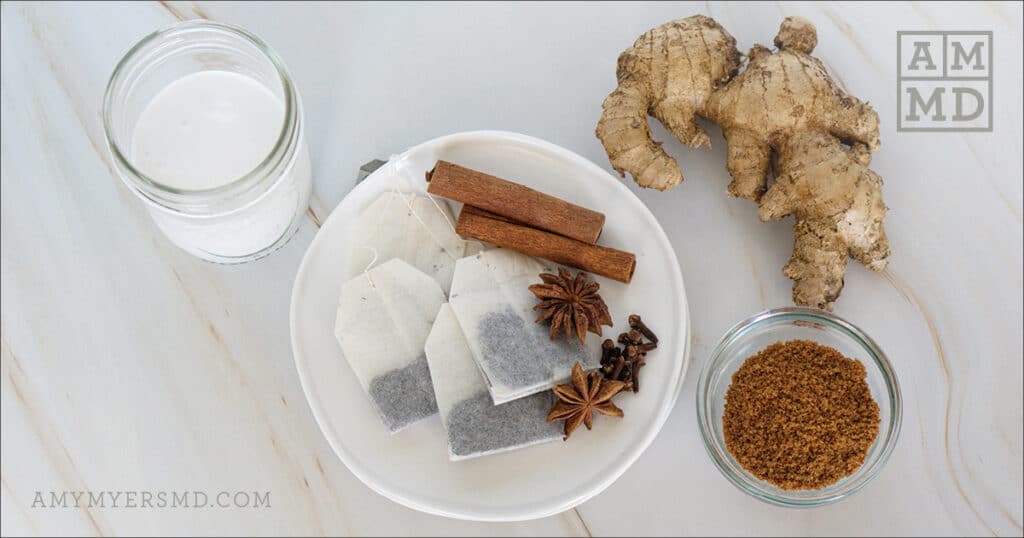 Dr. Amy Myers
July 22nd, 2021
https://content.amymyersmd.com/recipe/thai-tea/
Ingredients for Thai Tea spread out on countertop
Thai tea is a delicious spiced tea, however it is often made with orange food coloring and artificial flavors instead of natural spices. What's more, it is traditionally sweetened with condensed milk, which is made with cow's milk and refined sugar and can cause inflammation. 
This authentic flavored Thai Tea recipe requires just a few spices: cinnamon, cloves, anise, and pieces of fresh ginger. I serve this tea with steamed coconut milk. When I am in the mood for a sweet tea, I add a little non-refined coconut sugar to make a dairy-free, vegan Thai Tea. 
The spices that make this tea so delicious are actually what make it quite healthy! Cinnamon has antiviral, antibacterial, and anti-fungal properties, it is loaded with antioxidants, which may have an anti-inflammatory effect. Plus, cinnamon is a prebiotic, which can help with gut health.
Cloves are also high in antioxidants and may help improve liver health and regulate blood sugar.
Star anise may help balance blood sugars, relieve menopause symptoms such as hot flashes and fatigue, and reduce inflammation in the body, which can, in turn, reduce the risk of many chronic conditions.
Ginger is good for digestion and can help treat nausea, and may help with weight loss and treating indigestion.
If you choose to serve your tea with coconut milk, you will also be adding electrolytes and healthy fats called medium-chain triglycerides, which can help keep you full and prevent fatigue.
How to Make Thai Tea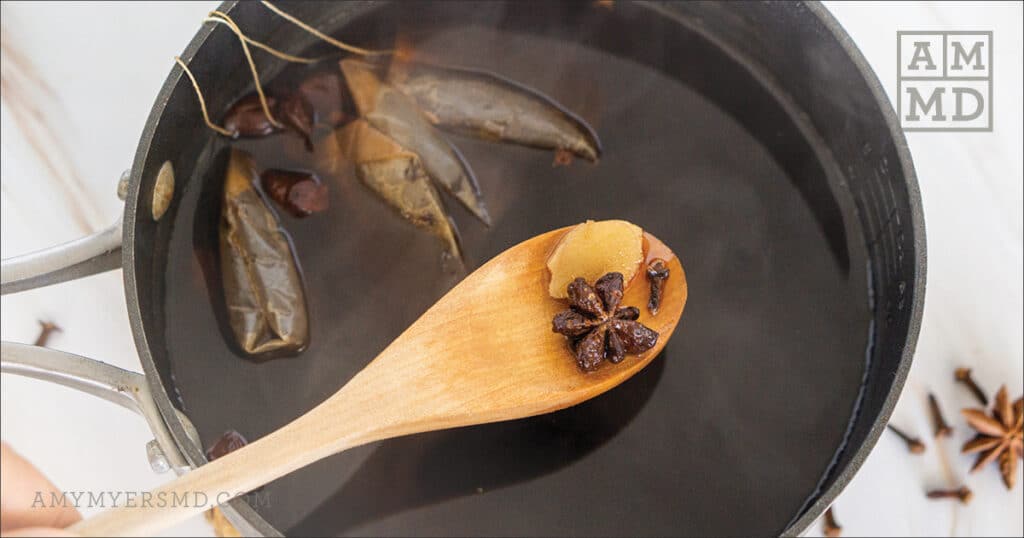 Dr. Amy Myers
July 22nd, 2021
https://content.amymyersmd.com/recipe/thai-tea/
Wooden spoon stirring tea on stovetop
To make Thai Tea, simply combine 4 1/2 cups of water with 2 cinnamon sticks, 2 pieces of star anise, a teaspoon of whole cloves, and a few slices of peeled ginger in a small pot, and simmer for 10 minutes. After the flavors have been infused into the water, add 4 black tea bags to the water and continue to simmer for 3-5 minutes, depending on how strong you like your tea. Stir in coconut sugar and stir to dissolve, if using.
To serve this Thai Tea hot, use a slotted spoon to remove all the spices from the water and pour the hot tea directly into a cup.
Heat up some coconut milk and add it to the tea.
To enjoy iced Thai Tea, allow the tea to cool to room temperature, remove the spices, and then place in the fridge. When ready to serve, pour the tea over ice and add coconut milk.
The tea will keep well in the fridge for 3-4 days.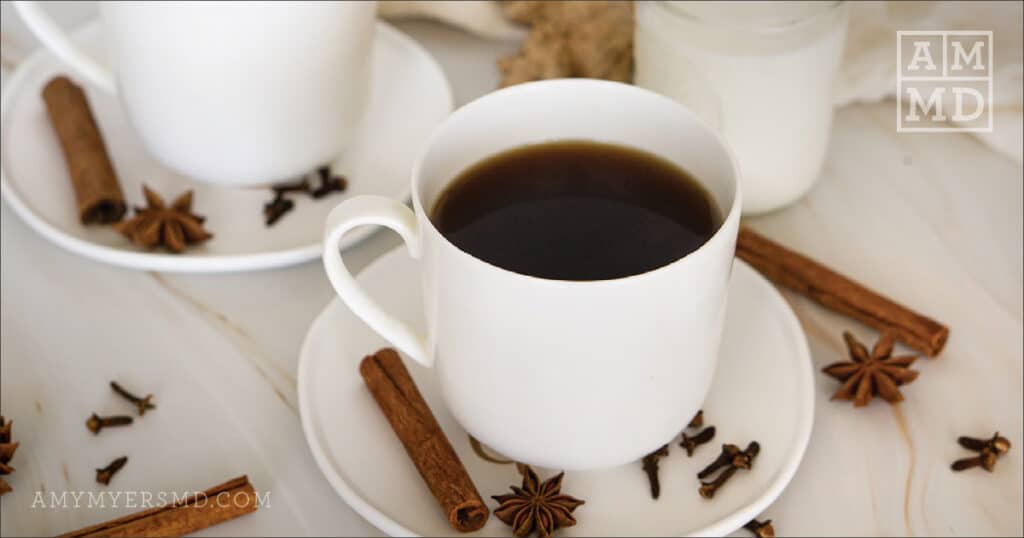 Dr. Amy Myers
July 22nd, 2021
https://content.amymyersmd.com/recipe/thai-tea/
Finished Thai Tea in a white teacup with cinnamon sticks, star anise on the countertop surrounding it
Does Thai Tea Have Caffeine?
Traditionally, Thai Tea is made with strongly brewed Ceylon black tea, which is a caffeinated. You can choose decaf Ceylon tea or other black tea of your choice if you need to avoid caffeine in your diet. 
What to Serve With Thai Tea
If you want to enjoy Thai Tea with dessert, spiced and chocolate flavors make the perfect pairing. I really like gingerbread, chocolate hand pies, chocolate tarts, skillet cookies, or cinnamon-spiced tarts with this Thai Tea. If you would like to have a cup of Thai Tea for breakfast, it goes great with porridge, quinoa bake, or spiced pumpkin muffins.
Ingredients
4 1/2

cups

1080.00

ml water

2

cinnamon sticks

2

star anise

1

tsp

4.93

ml cloves

1

inch

2.54

cm ginger peeled and sliced

4

Ceylon tea bags use decaf, if needed

3

Tbsp

44.36

ml coconut sugar optional

1 3/4

cups

420.00

ml coconut milk steamed or heated
Instructions
In a small saucepan, combine the water with the spices and the sliced ginger pieces. Bring to a boil, reduce heat, and simmer for 10 minutes.

---

Add the tea bags and simmer for 3-5 minutes. Remove from heat, and stir in the coconut sugar, if you prefer a sweetened tea. Use a slotted spoon or a strainer to carefully remove the spices, and discard.

---

Carefully pour into 4 cups. Serve with steamed coconut milk.

---

To make iced tea, allow the tea to cool, then place in the fridge. Pour over ice to serve, and top with cold coconut milk.

---