When you think of vitamin C, you probably associate it with something that helps you fight a cold or the flu because of its benefits for your immune system. 1 Yet, did you know that a vitamin C face wash is the holy grail for skin care — and there's a good reason for it. 
Vitamin C is a powerful free-radical fighter that facilitates a healthy inflammatory response. However, vitamin C face washes really shine for their benefit to your skin, including hydration, improving skin tone and texture, and as an anti-aging nutrient.2
I'm going to tell you why adding a vitamin C face wash to your skincare routine is so important. I will also tell you how you can get a high-quality vitamin C face wash to swiftly lift impurities and promote the appearance of youthful, fresh-looking skin. Before I do that, let's have a quick refresher on this powerful free-radical fighter. 
What is Vitamin C?
Vitamin C, also called L-ascorbic acid, is one of the most essential nutrients for your body. However, there's one problem – it's not that easily absorbed. Your body only absorbs about 14% of vitamin C in oral supplement form. And whatever your body doesn't absorb, it is removed through your urine.
As I mentioned, vitamin C has many benefits for your body. It's a free radical fighter and reduces oxidative stress. Vitamin C promotes collagen production by being a cofactor for essential enzymes that supports a stable collagen triple-helix structure.3 Vitamin C also supports eye health and, as I mentioned, is a superstar for your skin. I'll tell you more about that in just a second. 
Vitamin C is found in a lot of common foods, however, some of them, such as citrus fruits, nightshade vegetables, and strawberries and pineapple are loaded of histamines, which can be problematic for those with autoimmune disease. Citrus fruits and nightshades can cause problems for some people even without a full-blown autoimmune disease. To discover if you have a sensitivity to any of these foods, I recommend doing an elimination diet. 
If you follow the autoimmune protocol (AIP) diet there are plenty of foods to enjoy that are packed with vitamin C. Avocados, broccoli, brussels sprouts, kale, mango, and watermelon are great vitamin c-rich foods to enjoy!
As you can see, vitamin C is a powerhouse nutrient for your body. However, it's also widely used in skincare products. Let's talk about why!
Skin Benefits of Vitamin C
One commonly known benefit of vitamin C for your skin is that it facilitates wound healing. Some studies say that vitamin C can even speed up the healing process when applied topically.4 As a matter of fact, researchers have found that topical vitamin C is significantly more effective on your skin than consuming it.5
The array of benefits don't stop with wound healing. As I've mentioned, it supports collagen production, nourishes aging skin, repairs skin damage, prevents imperfections, and so much more. Here are some of the benefits vitamin c has for your skin.
vitamin C face wash – infographic – Amy Myers MD®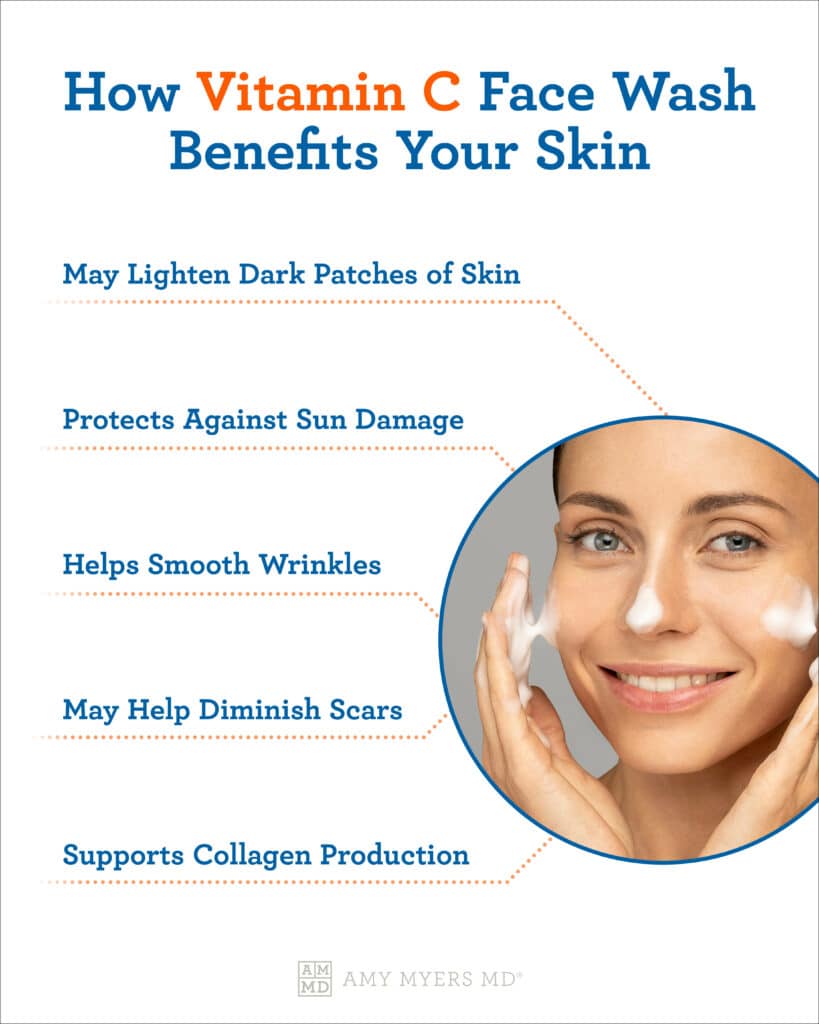 Dr. Amy Myers
March 27th, 2022
https://content.amymyersmd.com/article/how-vitamin-c-face-wash-benefits-your-skin/
How vitamin C face wash benefits yor skin- Infographic – Amy Myers MD®
Repairs Skin Damage
In the skincare world, vitamin C is a common ingredient in most sunscreens. Our skin soaks up a lot of harmful ultraviolet rays from the sun throughout our lives. These rays can cause premature skin aging that shows up as wrinkles, liver spots, leathery skin, and even more serious skin conditions.
Since vitamin C is a free-radical fighter, it facilitates protection against harmful ultraviolet rays. However, it does not work as a barrier against them. The benefit of vitamin C in sunscreens is that it reduces free radical damage to collagen in your skin and supports skin cell repair by reducing oxidative damage.
Reduces Hyperpigmentation
Does your skin have patches that are darker than other areas? That's called hyperpigmentation and it's caused by an increase in melanin, the natural pigment that gives your skin, hair, and eyes their color. The increase in melanin is due to a number of factors, such as overexposure to the sun, hormone imbalances, age, and inflammation.
Research suggests that vitamin C may be able to help lighten those areas up by blocking production of pigment and decreasing melanin synthesis.
Helps Smooth Wrinkles
As you can see, vitamin C can protect your skin from sun damage. Yet, did you know that it can help smooth your skin's texture, too? Next time you're in the beauty aisle of your drug or grocery store, pick up an "anti-aging" skincare product and look at the label. I'd be willing to bet it contains vitamin C.
Studies show that people who eat more vitamin C have fewer wrinkles.6 When you apply vitamin C topically to your skin, it supports the production of collagen and elastin, which keeps your skin smooth and firm. 7
Supports Collagen Production
Collagen is the glue that holds your body together. Collagen has an array of benefits including repairing leaky gut, supporting your joints, optimal weight and bone formation, growth and repair. It is a real superstar in skincare. Collagen promotes healthy aging of your skin by increasing moisture retention, facilitating elasticity, and smoothing your skin. However, vitamin C is needed for the synthesis of collagen.8
However, starting at about age 35, natural collagen production begins to slow down. By age 40, your body's collagen supply begins to deplete faster than your body can reproduce it. Over ½ of your body's collagen is depleted by the age of 60.9
To get the maximum skincare benefits of this protein, you should eat vitamin C-rich foods, take a collagen supplement, and apply vitamin C directly to your face. I'll tell you about my favorite vitamin C face wash later.
Removes Impurities
We all had acne as a teenager and maybe you have scars on your face. This is usually related to severe, cystic acne yet can result from mild cases as well. As I mentioned, one of the most common benefits of vitamin C is that it promotes wound healing. This goes back to how vitamin C supports collagen production. One study showed that those who used topical vitamin C saw improvement in the appearance of acne wounds.
Vitamin C is a nutrient powerhouse that has a long list of benefits for your skin. Not all vitamin C face washes are created equal. I'm going to tell you about the vitamin C face wash that I use in my morning and evening skincare routine. First, let's discuss what shouldn't be in your vitamin C face wash. 
What to Look for in a Vitamin C Face Wash
The first step in any skincare routine is cleaning the skin. This step is the most important. You're washing off excess oil, skin debris, and any toxins you've been exposed to throughout the day. As you can see, vitamin C is an ingredient that packs a powerful punch. I recommend that you use a face wash that includes vitamin C as part of your skincare routine.
However, there are ingredients you don't want in your vitamin C face wash. I know all too well the frustration of trying to look through a long list of ingredients on skincare products. The beauty industry is not heavily regulated, which means toxic ingredients can make their way into your skincare products. Here's a list of 12 ingredients that should not be in your skincare products: 
Parabens and Phthalates
BHA and BHT
Coal Tar Dyes
DEA
Formaldehyde
Undisclosed Fragrances
PEG Compounds
Petroleum, PAHs
Siloxanes
Triclosan
Your skin is your most important organ in your body. It performs so many vital functions in your body, including protecting your organs, bones, muscles, ligaments, nerves, and your blood vessels. Sixty percent of what comes in contact with your skin is absorbed. Don't worry. I'm now going to tell you about the best vitamin C face wash that is free of toxic chemicals that promotes the appearance of youthful, fresh looking skin.
The Best Vitamin C Face Wash
I believe you shouldn't have to compromise your standards when it comes to your beauty products. The cosmetic industry argues that it's perfectly fine to use toxic ingredients such as parabens, phthalates, and formaldehyde-releasing preservatives on your face because only tiny amounts are used in each product and are therefore not harmful.
However, with daily use, these toxic chemicals add up and wreak havoc on your body and your health! That's why I formulated a Replenishing Vitamin C Cleanser with a carefully chosen blend of exotic oils and organic botanical extracts to purify, nourish, and revitalize your skin. I made sure to include pharmaceutical-grade vitamin C to combat the effects of sun exposure and cell damage that comes naturally with age.
Along with pharmaceutical-grade vitamin C, this Replenishing Vitamin C Cleanser was made with rosehip seed oil and reishi mushroom extract to rejuvenate your skin and restore balance, smooth fine lines, and lighten dark spots to give your skin a polished, healthy glow.
Reishi mushroom extract nourishes your skin's natural microbiome, aids in moisture recovery, and fights damaging free radicals while reducing redness and soothing irritation.
I use this Replenishing Vitamin C Cleanser every day in the morning and evening. It's important to wash your face in the morning and evening to cleanse your skin from all it comes in contact throughout the day and at night.
How to Use Vitamin C Face Wash
Washing your face in the morning is just as important as washing it before you go to bed. Your face accumulates oils at night when you sleep, so you want to start your day off with fresh, clean skin.
Before you start any skincare routine, it's important to clean your skin with a vitamin C face wash before applying age-defying serum or hydrating cream. This ensures you're getting the most out of your skincare products.  
I begin by rinsing my face with warm filtered water. My home in Santa Fe, New Mexico has under-sink filtration systems from Aquasana throughout my house. Using filtered water keeps additional toxins from the tap water from absorbing into your skin.
I massage 1 to 2 pumps of Replenishing Vitamin C Cleanser into my face in a gentle, circular pattern after I rinse my face. Be gentle with your skin. There's no additional benefit of washing your face aggressively. I rinse it off with warm water and pat dry my face with a clean towel.
For a complete skincare routine, try the Essential Beauty Kit which contains three-physician formulated skincare products that nourish and protects your skin from the signs of aging.
Vitamin C is a powerful free-radical fighter that provides your skin with an array of benefits, as well as your overall health. Adding a vitamin C face wash to your skincare routine can nourish your aging skin, repair skin damage, remove impurities, reduce hyperpigmentation, and prevent imperfections.