If you have an autoimmune disorder–whether it's Graves' disease, lupus, Hashimoto's, Sjogren's, rheumatoid arthritis, or one of the hundreds of other autoimmune diseases out there—getting on board with The Myers Way® and autoimmune-friendly cooking is one of the best ways you can take control of your health. By eating the right foods (and ditching the toxic and inflammatory ones) you will begin to see your symptoms melt away. Your headaches, rashes, digestive issues, hair loss, and joint pain will become a distant memory as you learn to cook the foods that support your immune system and reduce the systemic inflammation behind your condition.
AIP Cooking Is Easier Than Ever
One of the biggest hurdles I see in my patients looking to optimize their diets is figuring out how to swap out some of their favorite or most-used foods for autoimmune-friendly versions. The good news is that these days, following an AIP lifestyle is easier than ever, thanks to the many stores and online companies who now offer so much in the way of autoimmune-friendly ingredients, staples, and ready-made snacks. My new cookbook, The Autoimmune Solution Cookbook, also helps take the guesswork out of AIP cooking and guides you step by step on your path towards wellness. (Haven't ordered your copy yet? Get it here!)
Useful AIP Swaps
The truth is, you can get pretty creative when swapping autoimmune-friendly foods in place of conventional ones! To help you get started, I've compiled this list of essential AIP swaps to make autoimmune-friendly cooking and baking a breeze!
12 Essential Swaps For Autoimmune-Friendly Cooking – Infographic – Amy Myers MD®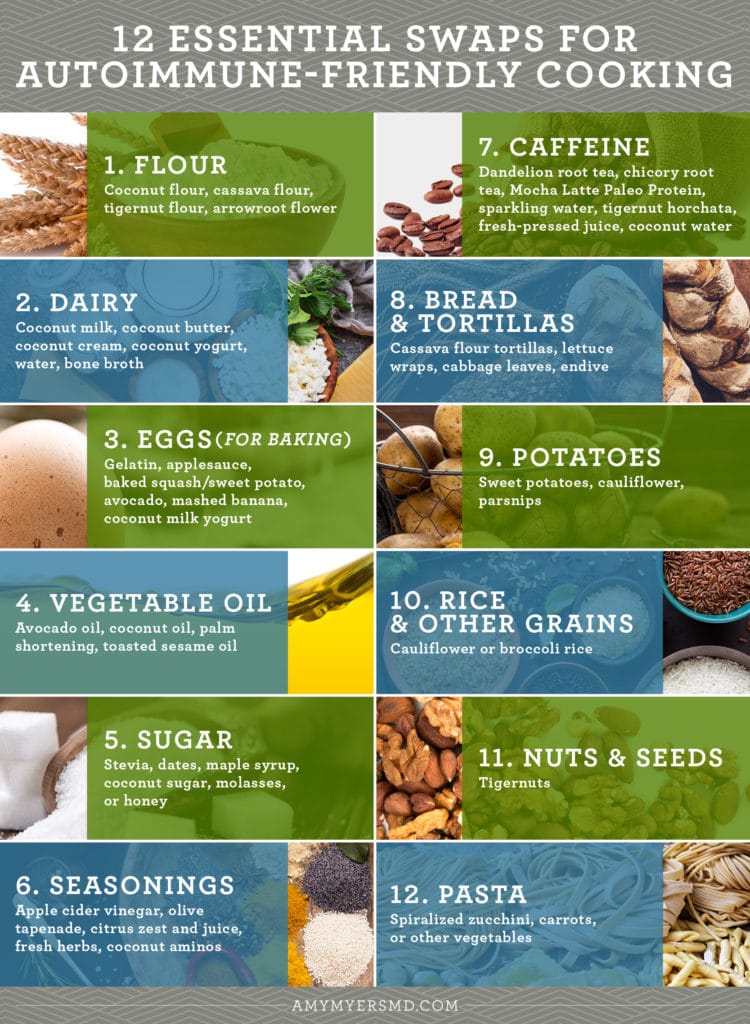 Dr. Amy Myers
May 3rd, 2018
https://content.amymyersmd.com/article/swaps-aip-cooking/
12 Essential Swaps For Autoimmune-Friendly Cooking – Infographic – Amy Myers MD®
1. Flour
Flour is at the base of so many products, yet most flour you can buy is overly-refined and chock full of gluten. When I wrote The Autoimmune Solution, finding a gluten-free, grain-free flour was very difficult. Nowadays, with the skyrocketing rates of autoimmunity and the simultaneous grassroots wellness movement, more and more AIP products have been popping up on store shelves, including a variety of flours! Coconut flour has become especially popular and you can find this almost anywhere. Some of my other autoimmune-friendly favorites are cassava flour, tiger nut flour, and arrowroot flour. These might be a little trickier to find at your typical grocery store, however online companies such as Thrive Market and Amazon are great for buying A IP pantry staples.
Both tiger nut flour and arrowroot flour are featured in my scrumptious Tiger nut Waffles, which is one of the many delicious, autoimmune-friendly breakfast recipes from my new cookbook!
2. Dairy
One of the two most inflammatory foods (second only to gluten), dairy has no place in an autoimmune-friendly diet. Fortunately, there are a number of easy swaps you can make to replace the dairy in your recipes. Use coconut milk, butter, cream, and yogurt in place of cow's milk versions. When buying coconut milk, it's important to always choose 100% organic, full-fat coconut milk made with only coconut meat and water to avoid inflammatory additives and thickeners.
Coconut oil is another option for replacing butter in cooking and baking. Depending on the recipe, you can also swap milk with water or even bone broth. If you can find it, tiger nut milk is another great non-dairy choice.
3. Eggs (for baking)
Eggs offer structure and stability to pastries, muffins, and brownies, so baking without them can take some getting used to. However, there are many unexpected AIP ingredients that can take the place of eggs. One of my favorite egg replacers for baked goods is gelatin. Gelatin has a gel-like quality that serves as a binder in baked goods, plus it comes packed with all the amino acids and other benefits of collagen, which is a vital protein for maintaining a healthy intestinal barrier and supporting healthy bones and joints.
Other potential swaps for eggs in baking include unsweetened applesauce, baked and mashed squash or sweet potato, avocado, mashed banana, and coconut milk yogurt.
4. Vegetable Oil
In addition to being made from foods on The Myers Way® absolute "no" list, vegetable oils including canola, soybean, corn, and safflower are highly processed and full of inflammatory Omega 6s. Instead, opt for high-smoke point avocado oil, or MCT-rich coconut oil for your AIP baking and cooking needs. Palm shortening is another vegetable oil alternative for use in baked goods, while toasted sesame oil lends a mild, nutty flavor to sauces and Asian-inspired dishes.
5. Sugar
Although you'll want to avoid all sugar during the first 30 days of The Myers Way® or any autoimmune protocol, once your health is restored, many people find that they can enjoy small amounts here and there if you know the right types to choose. In place of refined table sugar, opt for more natural options such as stevia, dates, maple syrup, coconut sugar, molasses, or honey. Just remember to keep sweet treats to a minimum, or save them for special occasions.
6. Seasonings
Spices such as paprika, cayenne, and chili powder can cause immune flare-ups in people who are sensitive to nightshades, and soy sauce, which is found in countless recipes, actually contains both soy and gluten. Fortunately, there are plenty of naturally AIP seasonings you can use to add flavor and spice to your dishes. A few of my favorites are apple cider vinegar, olive tapenade, citrus zest and juice, and fresh herbs. Swap out soy sauce for coconut aminos in stir-fries and marinades!
7. Caffeine
It can be challenging to ditch caffeine, especially if you've depended on it for years. Luckily, there are many caffeine-free beverages you can drink to give you that same boost of energy! Herbal tea can easily be exchanged for green or black varieties. Roasted dandelion root tea with its deep, smoky notes makes a terrific coffee replacement, as does Teeccino's chicory root tea. And if you really just love the taste of coffee and can't imagine your mornings without it, try my Mocha Latte Paleo Protein powder! Blended with a little non-dairy milk and a few ice cubes, it tastes JUST like a frothy mocha latte without all the inflammatory ingredients!
Beyond the coffee and tea world, sparkling water, tigernut horchata, fresh-pressed juice, and coconut water are all energizing drinks that come without the toxic effects of caffeine.
8. Bread & Tortillas
Grains and gluten are bad news for your gut. However, a lot of gluten-free bread is filled with processed junk and so many artificial ingredients that it's really not much better for you than eating "regular" bread. If you can't see yourself abstaining from sandwiches and tacos for good then give the following AIP swaps a try. Cassava flour tortillas are an excellent swap for corn and flour varieties. Meanwhile, lettuce wraps, cabbage leaves, and endive can all be used in place of bread or buns for your favorite burgers and wraps.
9. Potatoes
Potatoes are a ubiquitous comfort food in the standard American diet. If you're used to eating white potatoes as a staple of your meals, don't worry! There are plenty of other veggies that can fill that role surprisingly well. Of course, sweet potatoes can be used in any recipe that calls for white potatoes. Steamed and pureed cauliflower or parsnips are a great substitute for mashed potatoes, especially when blended with a bit of coconut cream! Rather than snacking on potato chips, try kale chips, plantain chips, cassava chips, or sweet potato chips. Your gut will thank you!
10. Rice and Other Grains
For a simple replacement for rice or other grains, I love cauliflower rice! Many retailers now carry prepared cauliflower (or even broccoli!) rice, however it is super easy to make yourself at home as well. Just throw florets in your food processor and pulse until the cauliflower reaches a rice-like consistency, then cook up in whatever recipe you're making. You can also rice cauliflower on a box grater if you don't have a food processor.
The mild flavor of cauliflower makes it perfectly adaptable for use in countless recipes, including my Chicken Burrito Bowl and my Vegetable Fried "Rice," both of which are featured in The Autoimmune Solution Cookbook!
11. Nuts & Seeds
Nuts and seeds are a tricky category because there aren't too many autoimmune-friendly foods with that nutty crunch and texture. That's why I was so excited to discover tiger nuts, which are actually little tubers. Tiger nuts are full of healthy fats and prebiotic fiber, and according to a recent study by Oxford University, they were shown to have played a critical role in the development of pre-humans to humans, making them the perfect Paleo snack!
12. Pasta
Substitute refined, glutenous, nutrient-poor pasta with spiralized veggie noodles! One of the best pasta replacers is zucchini, which is packed with vitamins A and C, plus potassium and fiber. Carrot and sweet potato make excellent noodles as well. You can buy your own spiralizer, though many stores now sell pre-spiralized veggies for when you need a quick and easy dinner. You'd be surprised how much zucchini noodles (or "zoodles") taste like spaghetti! They also make a great addition to other noodle dishes such as my Quick and Easy Instant Pot Zoodle Pho!
Once you've learned the ins and outs of AIP cooking, making all of your favorite dishes with autoimmune-friendly ingredients will be a snap! And you can feel good knowing your food is helping to relieve your symptoms, provide you with bountiful energy, and setting you on the path to optimal health!