Gluten-Free Heart-Shaped Strawberry Waffles
In case you didn't know, February is American Heart Month. With Valentine's Day right around the corner, these gluten-free heart-shaped waffles with strawberry sauce is the perfect breakfast-in-bed for your significant other. These waffles are easy to make in under a half hour, and the delicious strawberry sauce is made without any refined sugars. This waffle recipe is AIP- and paleo-friendly and is always a favorite.
What are gluten-free waffles made with?
This waffle recipe uses a combination of gluten-free flours instead of wheat flour: cassava flour, tigernut flour, and tapioca flour. The combination of flours give these waffles a great texture with a crispy crust and a soft interior.
gluten-free waffles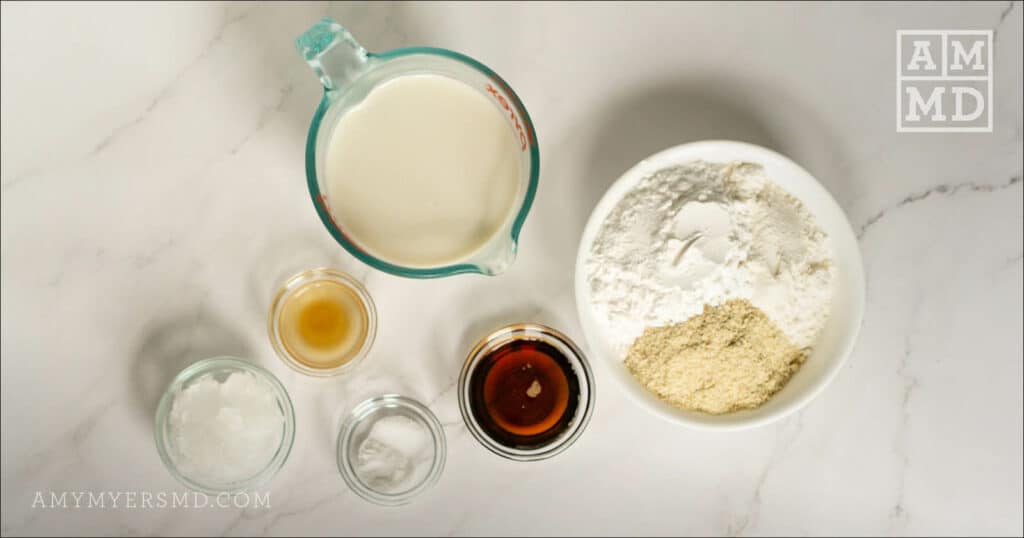 Dr. Amy Myers
February 11th, 2022
https://content.amymyersmd.com/recipe/gluten-free-heart-waffles/
gluten-free waffles
Cassava flour is a great alternative to wheat flours because it is high in resistant starch, which is a type of starch that has the same health benefits as fiber—it keeps us full and satiated. Resistant starch may also help reduce inflammation by helping to feed the "good" bacteria in the gut. Tapioca flour, also called tapioca starch, is made from the same yuca plant as cassava flour, but it has less nutrients. Tapioca flour is often used to make gluten-free baked goods, waffles, and pancakes soft in texture. It is also used as a thickener for the strawberry sauce for these waffles. Tigernut flour is a good source of fiber, resistant starch, and vitamin E, all of which help you digest food easily and protect the body against free radicals.
I recommend sifting the flours into a bowl to make sure that any lumps that formed in the flour during storage are broken up.
How to make AIP heart-shaped waffles
These waffles are just as easy to make as any waffle or pancake recipe: simply combine all the dry ingredients in one bowl and the wet ingredients in another bowl. Then stir together until just combined and do not over mix.
Transfer the mixture to your heart-shaped waffle iron (or use any waffle iron you like!). I recommend following the instructions for your waffle iron about how much batter to use per waffle and how long to cook the waffles, since that depends on the size and shape of your waffle iron. Another thing to keep in mind is that some waffle irons require you to grease the waffle iron, while others with non-stick surfaces recommend not greasing it.
Typically, waffles are cooked for anywhere between 3-4 minutes per waffle, or until most of the team evaporates, the waffles are golden brown on both sides, and easily unstick from the waffle iron.
gluten-free waffles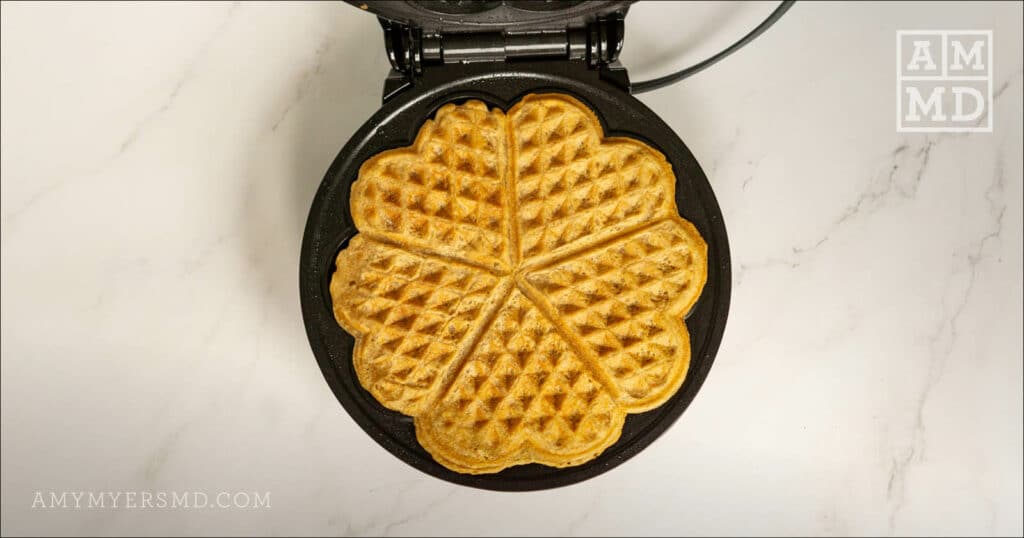 Dr. Amy Myers
February 11th, 2022
https://content.amymyersmd.com/recipe/gluten-free-heart-waffles/
gluten-free waffles
AIP strawberry sauce
Not only are these waffles a fun shape, but they are also topped by the most delicious waffle topping ever—strawberry sauce! This sauce is naturally sweetened with maple syrup and is bursting with fresh strawberry flavor.
To make the AIP strawberry sauce, simply whisk together tapioca flour, water, and maple syrup in a medium saucepan until no clumps remain. Add quartered fresh strawberries and bring to a gentle simmer, stirring frequently to prevent lumps from forming and the sauce from sticking to the pan. Chill for a few minutes before serving over the crispy waffles.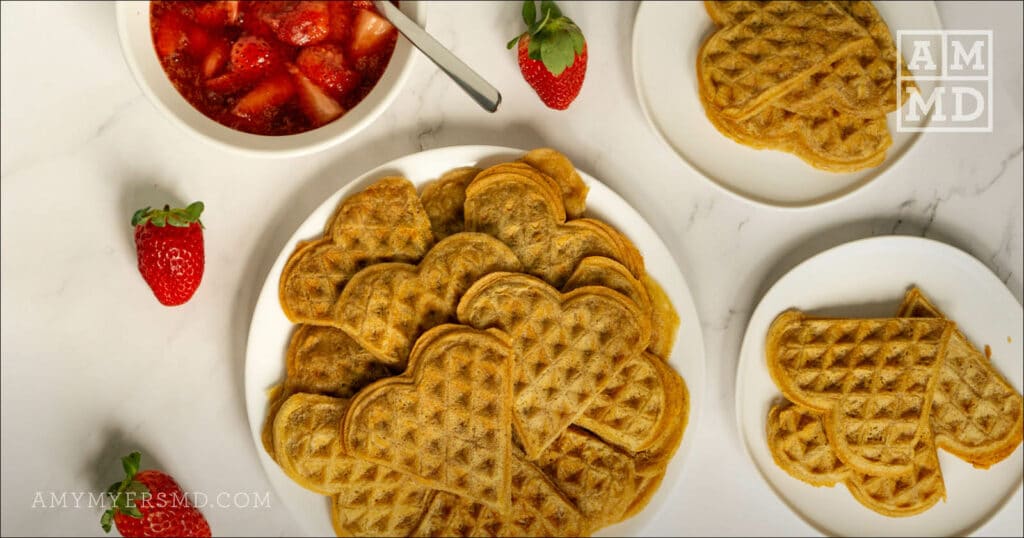 Dr. Amy Myers
February 11th, 2022
https://content.amymyersmd.com/recipe/gluten-free-heart-waffles/
gluten-free waffles
Other special breakfast recipes to try:
More special AIP Valentine's Day treats:
Gluten-Free Heart-Shaped Strawberry Waffles
---
Ingredients
For the waffles
1

 cup 

240.00

 ml Cassava flour

1/2

 cup 

120.00

 ml Tigernut flour

1/2

 cup 

120.00

 ml tapioca flour or tapioca starch

1/2

 tsp 

2.46

 ml baking soda

1/2

 tsp 

2.46

 ml baking powder

2

 cups 

480.00

 ml coconut milk

1/4

 cup 

60.00

 ml coconut oil melted

2

 tbsp 

29.57

 ml maple syrup

1

 tbsp 

14.79

 ml apple cider vinegar
For the strawberry sauce
10

 ounces 

295.74

 ml strawberries

1/4

 cup 

60.00

 ml water

4

 tbsp 

59.15

 ml maple syrup

1

 tbsp 

14.79

 ml tapioca flour
Instructions
In a large bowl, sift together the dry ingredients for the waffles: cassava flour through baking powder. Mix well.

---

In another bowl, whisk together the wet ingredients: the coconut milk through the apple cider vinegar.

---

Add the dry ingredients to the wet ingredients and whisk together until almost no lumps remain.

---

Preheat your waffle iron and grease it with coconut oil, if the manufacturer's instructions require it. Add about ½ cup of the batter to the preheated waffle iron (or follow the manufacturer's instructions for how much batter to add, as waffle iron sizes differ). Cook for 2-4 minutes, or per manufacturer's instructions, until the waffle is golden brown on top. Set aside and repeat until all the batter is used. Serve warm with strawberry sauce.

---

Prepare the strawberry sauce while the waffles are cooking: Remove the greens from the strawberries and chop them into quarters. In a medium saucepan, whisk together the water, maple syrup, and tapioca flour until no lumps remain. Add the chopped strawberries and bring to a simmer, whisking frequently to prevent sticking at the bottom. Simmer for a few minutes until the sauce is thickened and the desired consistency is reached. Remove from heat and allow to cool before serving.

---