Paleo Baked Salmon Patties
If you are looking for a simple, quick, and nutrient-dense recipe, then I suggest you try these Baked Salmon Patties. This recipe can transform leftovers, or plain, canned salmon into a gluten-free, egg-free, and absolutely delicious meal everyone can enjoy.
Whether you have leftover salmon you'd like to reinvent for dinner, or you need to dress up a couple cans of salmon you have stored in your pantry, this recipe will be a hit. I love to serve my Paleo Baked Salmon Patties with a side of Eggless, AIP Mayo, my Nut Free, Dairy Free Pesto, or this Lemon Herb Sauce.
Great Ingredients
Canned Salmon
As long as you find a brand of canned salmon only using wild-caught fish, they offer the same nutrients as the salmon you can find at the fresh meat counter. It's full of Omega-3 fatty acids and protein to support optimal health and a healthy inflammatory response. Additionally, if it's packed in olive oil, canned salmon then has even more healthy fats to keep you full and fight inflammation.
Avocado
As you can see, this recipe is all about the healthy fats, and avocado definitely delivers. Not only is this hearty fruit providing monounsaturated fats, it also gives Paleo Salmon Patties extra fiber to support digestion.
In addition to health-promoting benefits, avocado lends an amazing texture to these patties. You won't want to miss it.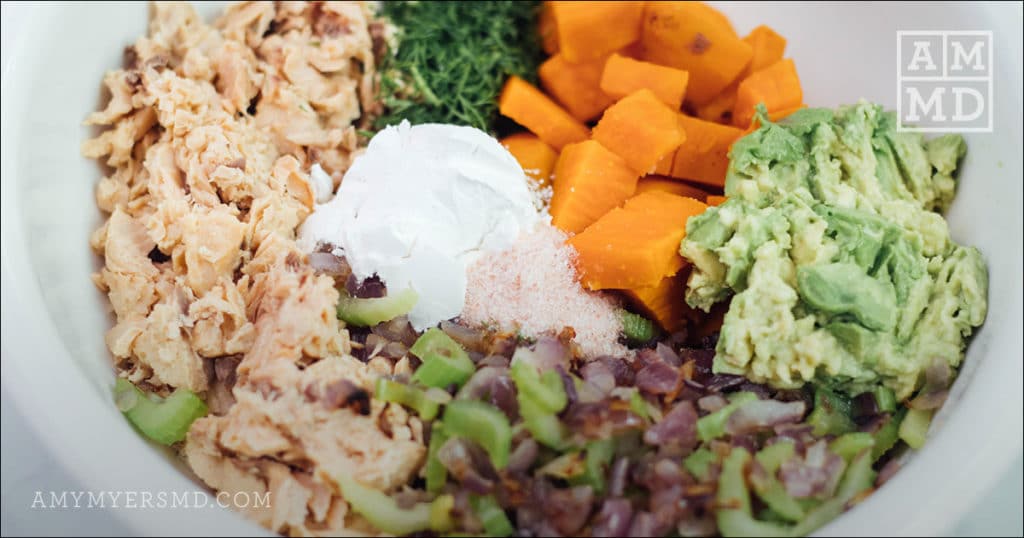 Customize Your Veggies
While I certainly recommend sticking with what's written here for the best flavor and the best texture, sometimes you have to work with what you can find. That means, you might only be able to use canned vegetables including pre-cooked, canned sweet potato and dried onion powder or garlic powder. I understand.
Even with constraints, your Paleo Salmon Patties will taste amazing, and still offer the same nutritional benefits including beta carotene, and the immune-boosting benefits of hydrated garlic (the garlic becomes re-hydrated once moistened).
Arrowroot Starch and Coconut Flour
And of course these patties are gluten-free. They use arrowroot starch and coconut flour as binding agents instead of flour and eggs. It's the perfect way to get a great patty-like texture without any ingredients that could harm your health.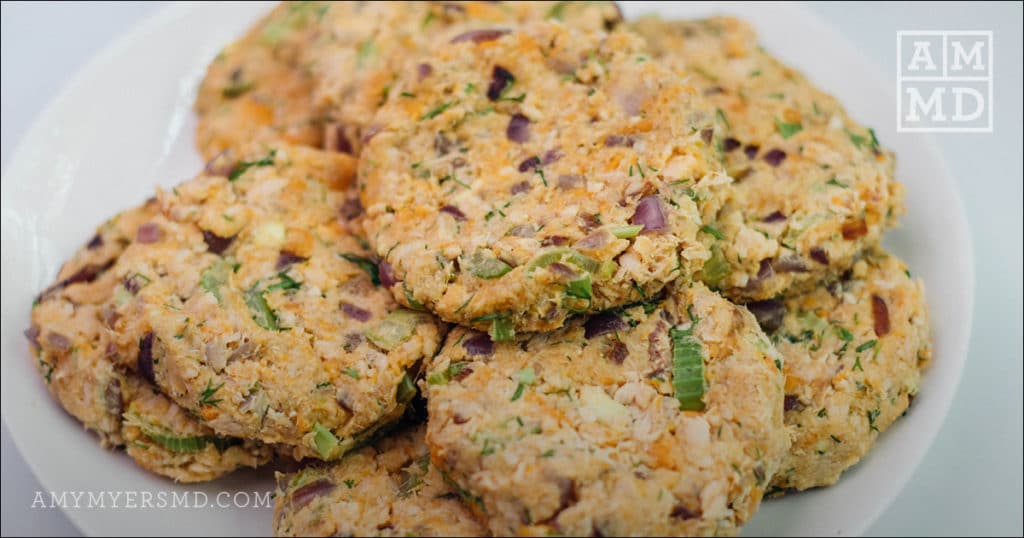 What to do with leftover salmon
While this recipe calls for canned salmon, leftover salmon works just as well. You'd need about 1 and 1/2 cups of cooked salmon to make up for the 2 cans used in this recipe.
Can you fry salmon patties instead of baking?
Absolutely! The salmon patties will likely stick to the pan more when frying, so you'll need to keep a good amount of high-quality oil in the pan, cook them over low heat, and consistently move the patties on the skillet with a metal spatula.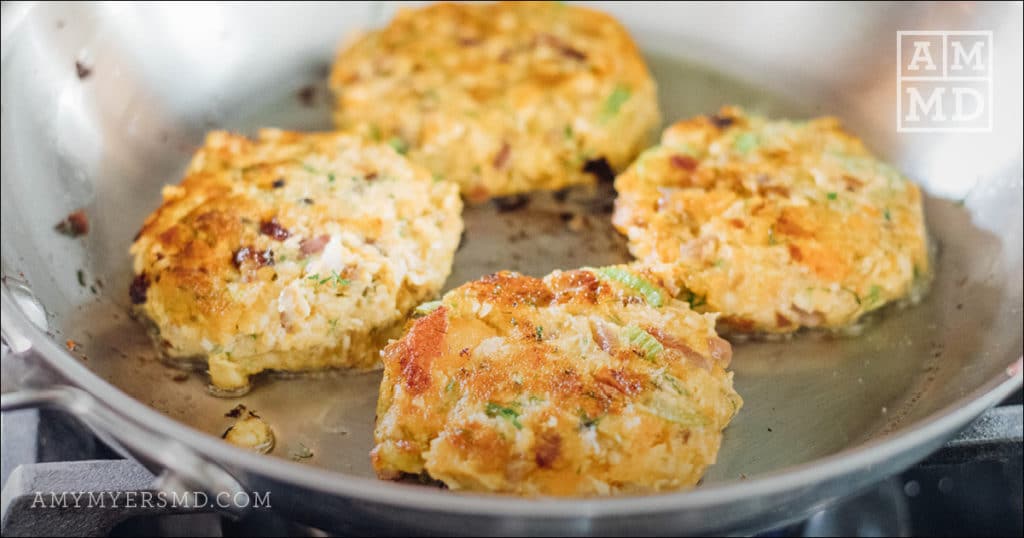 How do you make salmon patties with canned salmon?
You'll start with sauteing the onion and celery in a skillet. When the onion is golden brown, add the garlic and remove the skillet from heat.
Stir together the onion mixture along with salmon, avocado, sweet potato, arrowroot starch, dill, and salt. Make sure it is very well combined, and then add 2 tablespoons of coconut flour and stir in. Make a test patty. If a 3″ pattie has trouble staying together, add another 1/2 tablespoon of coconut flour at a time until the mixture is just dry enough to hold together.
Form the salmon mixture into eight 3″ patties, and bake for about 30 minutes on a parchment-lined baking sheet, flipping once halfway through. Remove from the oven, let cool slightly, and serve.
Tips for making the best Baked Salmon Patties
Be careful when handling the patties. They are egg-free, so they are delicate.
You can substitute 2, 6 ounce cans of salmon for 1 and 1/2 cups cooked salmon.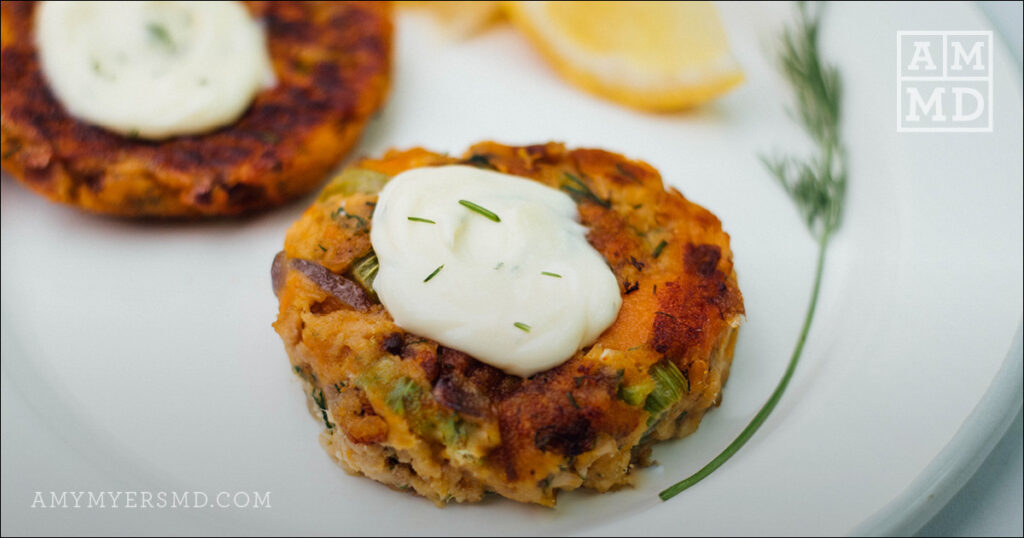 What vegetable side dish can you pair with salmon patties? Consider these recipes:
Paleo Baked Salmon Patties
---
Ingredients
1

Tbsp

14.79

ml coconut oil

1

red onion diced

2

stalks celery diced

1

clove garlic chopped

12

oz

354.89

ml salmon canned, drained

1/2

avocado peeled and chopped

1

sweet potato peeled and steamed into approximately 1 cup's worth

1/4

cup

60.00

ml arrowroot starch

2

Tbsp

29.57

ml dill chopped

1

tsp

4.93

ml sea salt

4

Tbsp

59.15

ml coconut flour
Instructions
Add coconut oil to a large skillet over medium-low heat. When the oil is heated, add celery and onions to the skillet and saute about 10 minutes, stirring occasionally to keep from burning, until onion begins turning golden brown.

---

Add garlic to the skillet and saute for 2-3 minutes. Remove skillet from heat.

---

Preheat the oven to 400 degrees F.

---

In a large mixing bowl, combine the onion mixture with salmon, avocado, sweet potato, arrowroot starch, dill, and salt. Mash together either by hand or with a spatula until well-combined.

---

Depending on how "wet" the mixture is, add coconut flour. Start with 2 Tbsp, and increase as needed until mixture easily holds its shape in 3" round patties. If your patties are not holding together, add another 1/2 Tbsp of coconut flour.

---

Carefully place patties on parchment-lined baking sheet, and bake for 15 minutes. Remove from oven, carefully flip, and bake for another 15 minutes or until golden brown.

---

Remove from the oven, let cool slightly, and serve.

---