Stuffed Avocados with Cilantro Cream Sauce
If you're looking for a light, healthy lunch or dinner idea, try these avocados stuffed with shredded chicken and topped with a creamy cilantro sauce. This dish is loaded with lean protein from the chicken, healthy plant fats from the avocado, and most importantly—flavor! This chicken stuffed avocado recipe is AIP- and paleo-friendly, as well as low carb.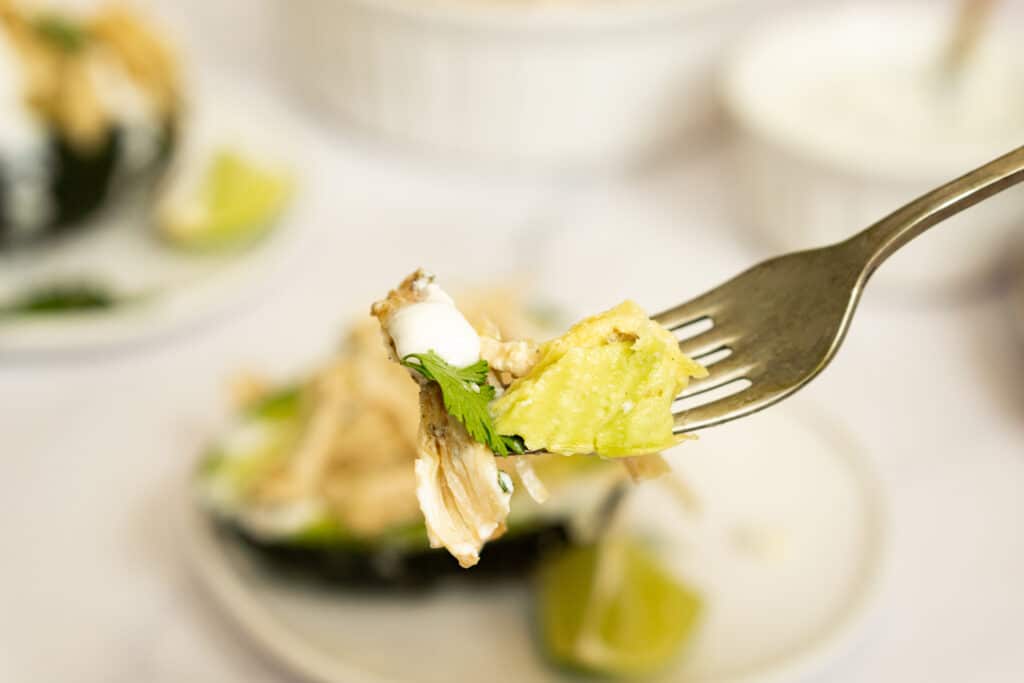 Dr. Amy Myers
September 16th, 2022
https://content.amymyersmd.com/recipe/stuffed-avocados-cilantro-cream-sauce/
AIP shredded chicken
Shredded chicken is so convenient to make for healthy meal prep. It's great on top of salads, in zucchini enchiladas, and piled high on top of avocados in this dish. This AIP-friendly shredded chicken is seasoned to have lots of flavor without inflammatory nightshades, and it can be made on the stove-top or in the Instant Pot.
To make AIP shredded chicken, simply season chicken breast with a combination of sea salt, pepper, garlic powder, onion powder, ground cumin, and dried oregano. Then cook it in the Instant Pot or on the stove top with some sliced onions in chicken broth. The chicken broth helps make the chicken tender and juicy, and the cooked onions add flavor when mixed into the cooked shredded chicken.
This recipe makes enough chicken for 4 whole stuffed avocados (8 halves), so you can keep some leftover shredded chicken in the fridge to make more stuffed avocados the next day, or for other recipes. You can use the shredded chicken in chicken salad lettuce wraps and on top of salads to make them a protein-rich healthy meal.
I like to use chicken breasts to make shredded chicken because it's a great source of lean protein. The protein helps build and repair muscle tissue. If you buy organic hormone-free and antibiotic-free chicken, you'll also get additional health benefits of more nutrients, such as zinc and vitamin B12, compared to non-organic chicken. Zinc is important to keep our immune systems healthy and to reduce inflammation. Vitamin B12 is necessary for energy, an active metabolism, and a healthy nervous system.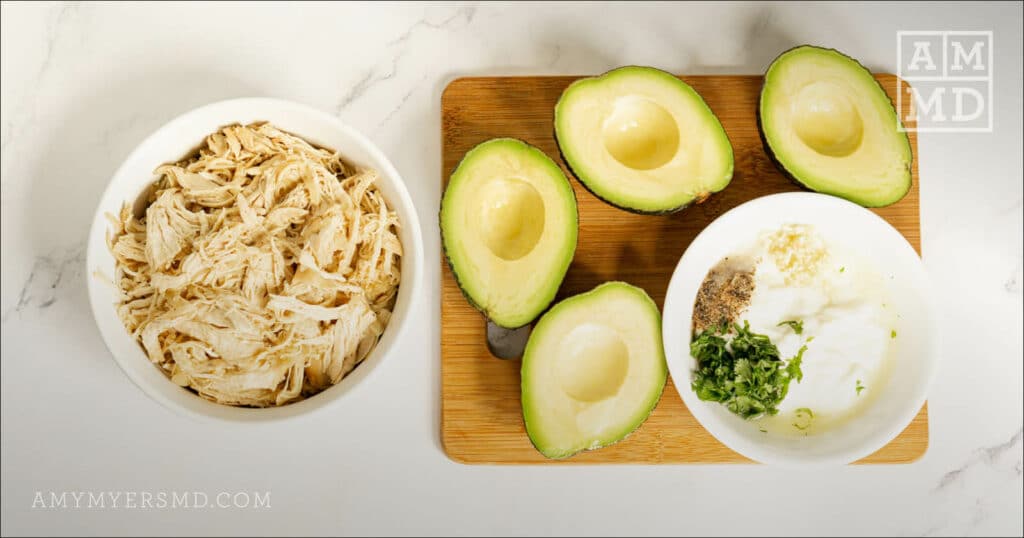 Dr. Amy Myers
September 16th, 2022
https://content.amymyersmd.com/recipe/stuffed-avocados-cilantro-cream-sauce/
AIP stuffed avocados
Stuffed avocados are always an impressive dish to serve, especially when you pile the toppings on high. The flavorful shredded chicken is such a good combination with creamy, ripe avocado. In addition to being delicious, avocados are very nutritious. They're loaded with healthy monounsaturated fats which help keep our hearts healthy and help keep us full. They're also high in vitamins C, E, and K, which are important for a healthy immune system, antioxidant and anti-inflammatory function.
Make sure to get Hass avocados (or your favorite avocados) that are ripe so they can be easily pierced and scooped up with a fork.
I top the chicken-stuffed avocados with an easy dairy-free cilantro cream sauce that's stirred together in a bowl. It is made with coconut yogurt, fresh cilantro leaves, lime juice, minced garlic, salt, and pepper.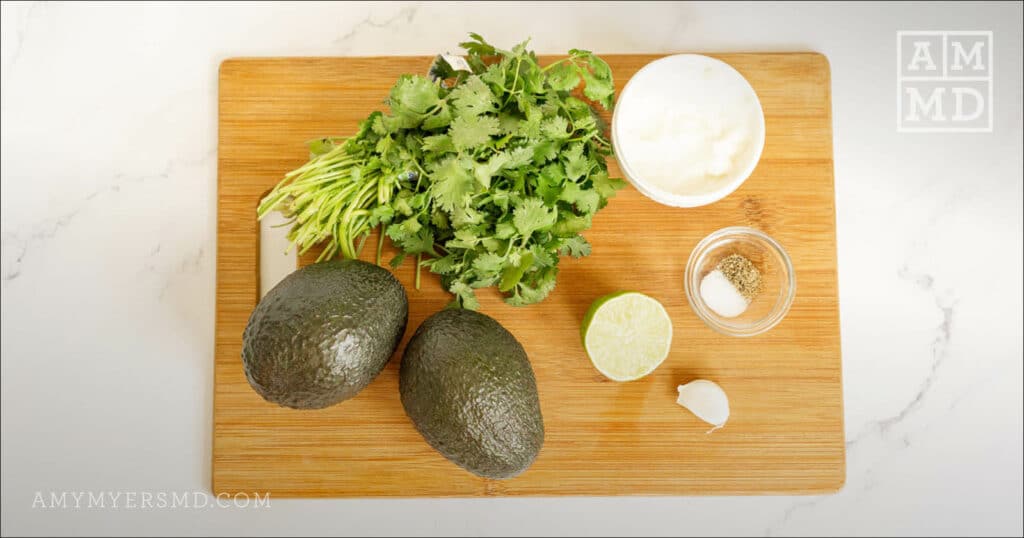 Dr. Amy Myers
September 16th, 2022
https://content.amymyersmd.com/recipe/stuffed-avocados-cilantro-cream-sauce/
The yogurt cilantro sauce is tangy, garlicky, creamy, and so tasty on top of creamy avocado and shredded chicken. If you are not a fan of cilantro, you can use chopped scallions or parsley instead.
Coconut yogurt is a great dairy-free creamy alternative to sour cream, and it contains gut-healthy probiotics and electrolytes, which help regulate fluids in the body. Make sure to get store-bought unflavored coconut yogurt that doesn't have any sweeteners and is thickened with AIP-friendly starches, such as tapioca or arrowroot. You can also make your own coconut yogurt.
I like to drizzle the cilantro cream sauce on top of the chicken, and serve some on the side for dipping.
This combination of shredded chicken, avocado, and cilantro cream sauce would also be delicious in lettuce wraps for a healthy lunch!
More topping ideas
In addition to chicken and cilantro cream, this stuffed avocado would go so well with any of these toppings:
Chopped cucumbers
Chopped radishes
Diced red onion or scallions
Crumbled bacon
You can also try stuffing the avocados with pulled pork or even shrimp!
Stuffed Avocados with Cilantro Cream Sauce
---
Ingredients
For the chicken:
1

lb

454.00

g organic chicken breast

1

yellow onion

1/2

cup

120.00

ml chicken broth (or more, as needed)

1/2

tsp

2.46

ml garlic powder

1/2

tsp

2.46

ml onion powder

1/2

tsp

2.46

ml ground cumin

1/2

tsp

2.46

ml dried oregano

1/2

tsp

2.46

ml sea salt

1/2

tsp

2.46

ml ground black pepper
For creamy cilantro sauce:
1/2

cup

120.00

ml unsweetened organic coconut yogurt

2

tbsp

29.57

ml cilantro leaves

1/2

tbsp

7.39

ml lime juice

1

cloves of garlic finely minced

1/2

tsp

2.46

ml sea salt to taste

1/4

tsp

1.23

ml ground black pepper to taste

1

tbsp

14.79

ml water as needed

2

ripe Hass avocados
Instructions
Combine the chicken seasonings (garlic powder through black pepper) and season the chicken on both sides.

---

Heat a medium pan and add 1 tablespoon olive oil to the pan. Cook the chicken on both sides for 3-5 minutes over medium heat.

---

Add the chicken broth and onions, cover, and allow to simmer for 15-20 minutes, or until the chicken is fully cooked. Keep an eye on the pan and add more chicken broth or water if it is evaporating.

---

Transfer the cooked chicken, onions, and any remaining liquid to a heat-safe bowl and carefully shred with two forks.

---
In a small bowl, combine the coconut yogurt with the next 5 ingredients (cilantro leaves through black pepper). Mix well. Add 1-2 tablespoons of water if you want a thinner sauce.

---

Slice the avocados in half and remove the seed. Place about ½ cup of shredded chicken on top of each avocado half.

---

Drizzle the cilantro garlic yogurt sauce on top, and serve immediately garnishing with fresh cilantro leaves and lime wedges.

---
Place the chopped onion on the bottom of the inner pot of the Instant Pot. Place the chicken breasts on top. Pour ½ cup chicken broth into the pot. Combine the seasonings (garlic powder through black pepper) and sprinkle over the chicken breasts.

---

Pressure cook at high pressure for 25 minutes. Allow the pressure to naturally release, then open the Instant Pot lid.

---

Use tongs or forks to shred the chicken in the pot, incorporating the cooked onions into the shredded chicken. Remove the chicken from the pot. The concentrated chicken broth can be used for chicken soup or for other recipes.

---