The Covid-19 pandemic put immune health into the spotlight and now the connection between your gut and your immune system is taking center stage.
We continue to learn more about the connection between your gut health and your immune system and how the health of one affects the other. The gut health and immune system relationship makes sense if you consider that 80% of your immune system lives in your gut. Without a healthy gut, you cannot have a healthy functioning immune system, and vice versa.
I will tell you more about the connection between gut health and the immune system, why your health is so important, and how a leaky gut can cause your immune system to go rogue and lead to autoimmune disease. Let's begin by reviewing your immune system.
Why Your Immune Health Is Important
Your immune system is an extensive network of cells, tissues, and organs that help protect your body from disease-causing pathogens, including bacteria, viruses, parasites, and fungi. When harmful invaders enter a healthy body, the immune system releases antibodies that attach to the pathogens and eliminate them from your system.
Your immune system consists of two parts: The innate and adaptive systems. Let me tell you what each one does.
gut health and immune system – infographic – Amy Myers MD®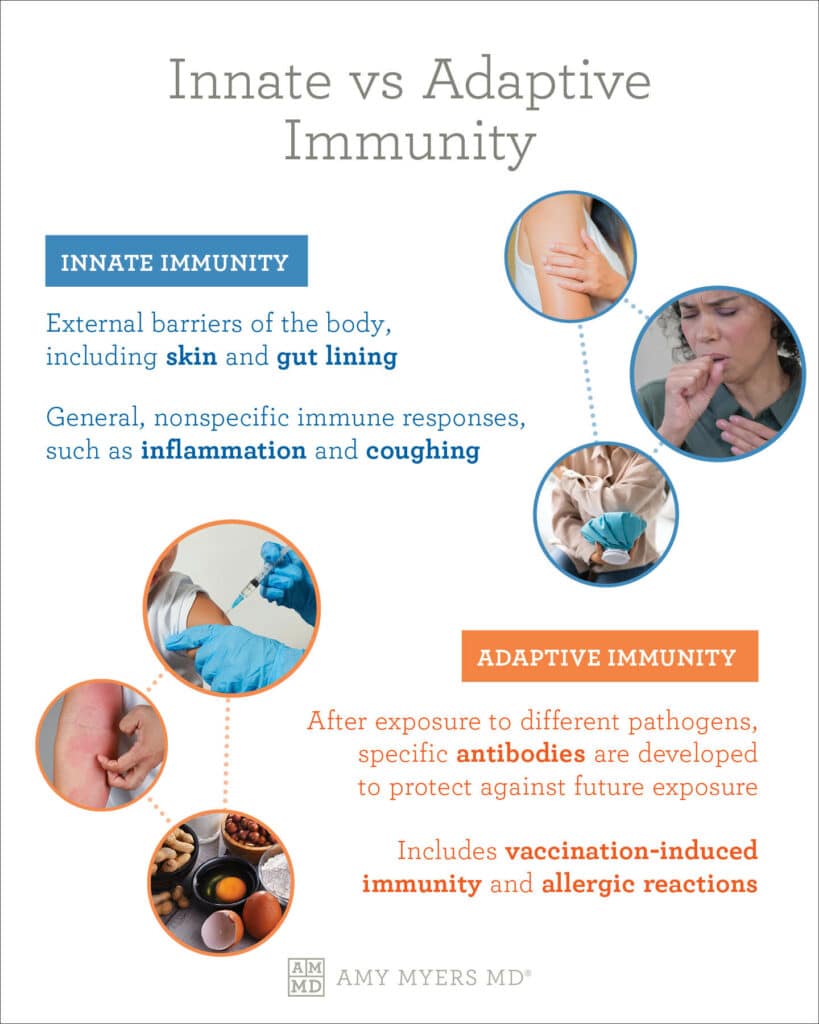 Dr. Amy Myers
September 18th, 2022
https://content.amymyersmd.com/article/gut-health-and-immune-system/
gut health and immune system – infographic – Amy Myers MD®
Innate Immune System
The innate immune system is your body's first line of defense against germs entering the body, and it consists of your skin, mucous membranes, immune system cells, and proteins. It is sometimes referred to as the "nonspecific immune system" because it responds similarly to all germs and foreign substances.1
For example, when bacteria enter the body through a cut or wound, your innate immune system quickly detects and destroys them.
Your innate immune system is responsible for triggering an inflammatory response. Its cells release substances to the infected area that widen the blood vessels, which causes the area around the infection to swell and heat up to protect other cells in your body.2
Adaptive Immune System
The adaptive immune system is your body's second line of defense, consisting of T-cells, B-cells, and antibodies, such as white blood cells. Your adaptive immune system takes over when your innate immune system cannot destroy germs.3
Your adaptive immune system gets programmed at birth, yet, it can remember foreign invaders once it encounters them. Here's what I mean.
When your adaptive immune system gets introduced to a virus, it copies the code from the virus so it can recognize it when it sees it again. This allows it to respond quickly to this pathogen and kill it before it can cause any real damage.
When your immune system is functioning optimally, acute inflammation is a weapon that protects you from severe and immediate stressors.. Once the threat is gone, the inflammation subsides.
In contrast, a weak immune system cannot defend itself from harmful invaders, and this can cause chronic inflammation, which is often the root cause of autoimmune disease. This is where the gut health and immune system connection begins.
Your Gut Is Your Gateway to Health
If you've been around for a while, you've heard me say that the gut is the gateway to health. You cannot have a healthy immune system without a healthy gut. As I mentioned earlier, your gut is home to nearly 80% of your immune system.4
Your gut and immune system are allies in the fight against harmful invaders. When your gut is healthy, your immune system functions optimally. It can tell the difference between different types of bacteria, keeping the good and defending off the bad.
A balanced gut microbiome is a key to a healthy immune system. Dysbiosis occurs when the balance of bacteria in the gut gets thrown off. This puts your immune system on high alert and begins attacking everything in its path, including healthy cells. Before you know it, you have developed full-blown autoimmunity.
When this happens, your immune system goes rogue and starts to attack your own tissues. It could be your thyroid under attack, skin, joints, nervous system, pancreas, or other organs. Regardless of which part of your body is under attack, the root cause is your immune system. This means in order to prevent, treat, and reverse your autoimmune disease, you'll need to address your gut health and get your immune system back under control.
Additionally, when your gut microbiome becomes unbalanced and contains more bad than good bacteria, the bad bacteria become opportunistic and can lead to SIBO (Small Intestinal Bacterial Overgrowth) and Candida overgrowth. Over time, having this dysbiosis in your gut microbiome will eventually lead to a leaky gut.
What is Leaky Gut & How to Heal
Leaky gut occurs when the tight junctions that hold your intestinal wall together become loose. It can set you on the path to chronic illness.
Let's think of your gut lining as a drawbridge. Your gut is naturally semi-permeable to let teeny-tiny boats (micronutrients) pass through your intestinal wall and into your bloodstream. It's the way you absorb the foods you eat. External factors, such as food, infections, stress, and toxins, can break apart the tight junctions in your intestinal wall, leaving the drawbridge open. When this happens, you have a leaky gut.
When your gut is leaky, larger boats never meant to get through (toxins, microbes, and undigested food particles) can escape into your bloodstream. Your immune system marks these "foreign invaders" as pathogens and attacks them, causing the following symptoms:
Digestive issues, such as gas, bloating, diarrhea, or irritable bowel syndrome (IBS)
Brain fog, difficulty concentrating, or ADD/ADHD
Skin issues, such as acne, eczema, or rosacea
Mood imbalances, such as anxiety or depression
Diagnosis of chronic fatigue or fibromyalgia
Diagnosis of autoimmune disease, including Hashimoto's thyroiditis, lupus, celiac disease, psoriasis, or rheumatoid arthritis
How to Heal a Leaky Gut
If you're wondering how to heal a leaky gut, I suggest starting with the proven 4R approach.
Individuals with significantly weakened gut health who need a powerful option to restore gut homeostasis will want Leaky Gut Revive® MAX, which is my two-pronged approach to heal leaky gut and support a healthy immune system.
Support Your Immune Health
Vitamin D is essential for supporting a healthy immune system. Many immune cells have receptors for Vitamin D, including macrophages, dendritic cells, monocytes, T-cells, and B-cells. As such, Vitamin D plays a significant role in modulating both innate and adaptive immune responses. Studies also suggest that vitamin D plays a role in preventing cancer and autoimmune disease.
Unfortunately, deficiency in this critical nutrient is more common than we think. Studies show that around 42% of Americans are vitamin D deficient. Postmenopausal women, those with poor diets, adults over 65, and those with minimal sun exposure are at a greater risk for deficiency.
Moreover, because new research suggests the previously recommended levels of vitamin D are too low, the rate of true vitamin D deficiency is likely even higher.5 That's why it's one of the four supplements I recommend for everyone to take.
How to Increase Your Vitamin D
One of the best ways to naturally increase your vitamin D levels is by spending time in the sunlight. However, sun exposure does come with risks. Too much sun exposure can lead to early aging, a weakened immune system, skin cancer, and eye damage.
You can also get vitamin D by consuming wild-caught fatty fish, such as salmon, egg yolks, and mushrooms. Mushrooms should be avoided if you have Candida overgrowth or following a FODMAP diet.
If your vitamin D3 levels are below the recommended range of 60-90 ng/mL, I recommend that adults take 5,000 daily IU of a high-quality Vitamin D3/K2 and children that 2,000 IU. Both drops and capsules are available in my store.
The Final Word
Your gut and immune system share a fascinating connection. You cannot have a strong, healthy immune system without a healthy gut. The best way to support your immune system is to take care of your gut by keeping your microbiome balanced. My No. 1 tool for a healthy gut is Leaky Gut Revive®, For maximum support of your gut health and immune system, I recommend Leaky Gut Revive® MAX. Additionally, maintaining optimal vitamin D levels, ditching inflammatory foods such as gluten and dairy, and eating an organic diet full of whole foods can support gut health and your immune system and put you on the path to optimal health.