It's that time of year again! The scarves and hats have been pulled out, festive decorations are up, and you're planning family gatherings – dinners at the family table, evenings spent around the fireplace, and breakfast on holiday mornings.
The holidays are a time for family and friends, but let's face it, they're also a time for food! Whether you've been gluten-free for years, are a veteran of The Myers Way® programs, or are just starting out, creating tasty and traditional holiday dishes that are free of toxic and inflammatory foods can be a challenge.
This year I want to make it easier than ever for you to stick with your healthy habits and still have a delicious holiday season. That's why I'm introducing The Myers Way® Autoimmune Friendly Holiday Recipe eBook, a full collection of holiday recipes approved for those following The Autoimmune Solution Protocol, twists on classic favorites, as well as unique ideas for new holiday staples.
Here's a sneak peek of some of the dishes included: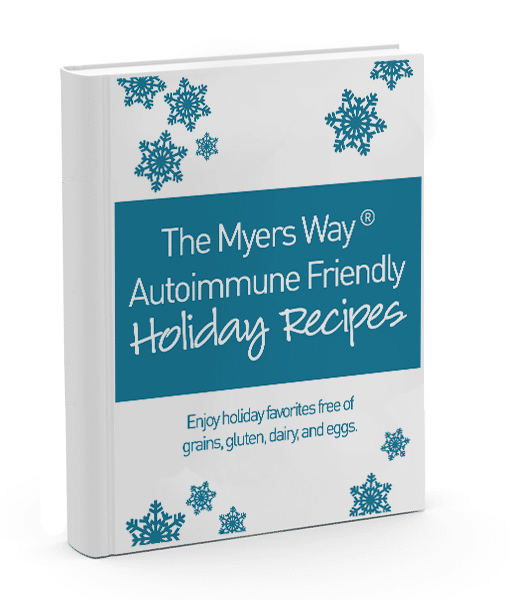 Rosemary and Black Pepper Roast Beef
Grain-Free Bacon, Sweet Potato, and Apple Stuffing (see the recipe here!)
Cinnamon Roasted Butternut Squash
Cherry Roasted Brussel Sprouts
Baked Pears with Spiced Vanilla Coconut Cream
These recipes are simple to prepare and sure to please holiday eaters of all ages and tastes. They are full of rich flavors, centered around fresh seasonal produce, and are appropriate for home cooks of any skill level, no rare ingredients or expensive gadgets required.
All of the recipes are free of gluten, grains, legumes, dairy, eggs, corn, soy, nuts, seeds, and nightshades, and are either Autoimmune Solution compliant or include substitutions to make them so.
I hope you've had a wonderful year, and that your holidays are filled with joy, friendship, family, and gratitude. I am so thankful for your continued support, and I'm so glad to be part of your health journey.
Reverse Chronic Illnesses So You Can Take Back Your Health!
Are you ready to beat your symptoms, regain your energy, and feel like yourself again? Whether you have Hashimoto's, Graves', or any of the hundreds of other autoimmune diseases, I want you to know you CAN reverse your condition!
Tens of thousands of people around the world have already taken back their health using my New York Times Bestsellers, The Autoimmune Solution and The Thyroid Connection. Are you ready to join them?
In each book you'll learn how to address the true underlying causes of your symptoms using simple yet proven dietary and lifestyle changes. Best of all, you'll get step-by-step, four-week plans to put all of the principles into practice and truly make optimal health a way of life!