The holidays are right around the corner, and that means great times and even better food! Even if you follow the Paleo diet, there's no reason why you can't join in the festivities. I've put together this list of perfect Paleo holiday food swaps so you can feel good, full, and festive while enjoying this special time with your friends and family.
Dairy-Free Egg Nog
Egg Nog is definitely a holiday favorite, but is typically packed with dairy and, of course, eggs. Try my Dairy-Free Egg Nog for a creamy take on this holiday classic that won't put your dietary protocol on hold!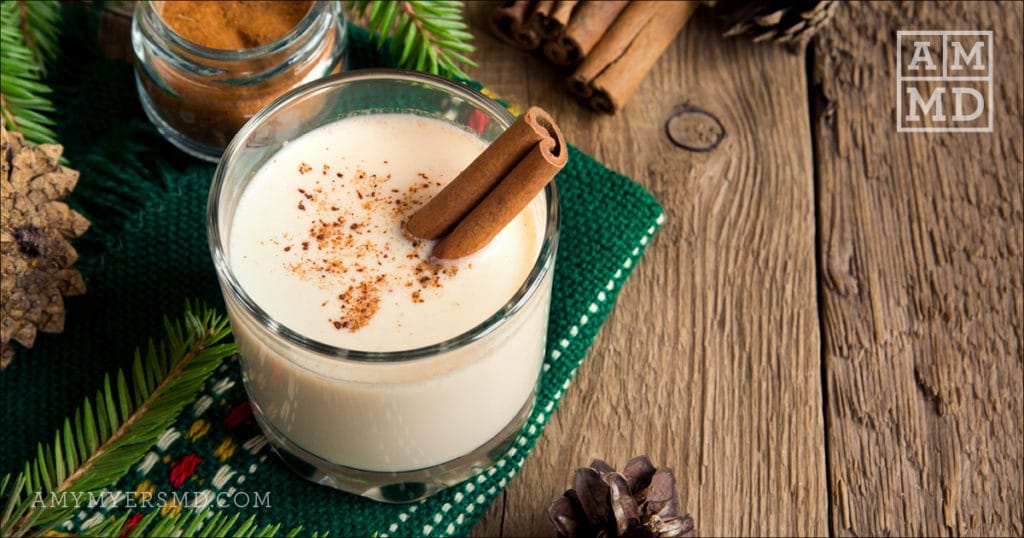 Ingredients
4 cups Tigernut horchata (original or chai flavor)
1 cup coconut cream
4 dates pitted
1 tsp pure vanilla extract
1 tbsp grass-fed gelatin powder
1/4 tsp nutmeg
1/8 tsp cloves
1/8 tsp salt
Instructions
Place all ingredients into a high speed blender and blend on high until smooth.
Place blended ingredients into a medium saucepan and whisk frequently until gelatin dissolves and mixture is warmed through. Serve immediately.
---
Keto Green Bean Casserole
A Keto Green Bean Casserole is the perfect, low carb spin on a favorite holiday recipe that you can put on the table for a healthy Christmas dinner. My recipe for this classic casserole features mushrooms and bacon to make it a deliciously savory crowd-pleaser that everyone will reach for. It's also gluten-free and dairy-free, so you don't have to worry about filling your body with inflammatory ingredients that will harm your gut.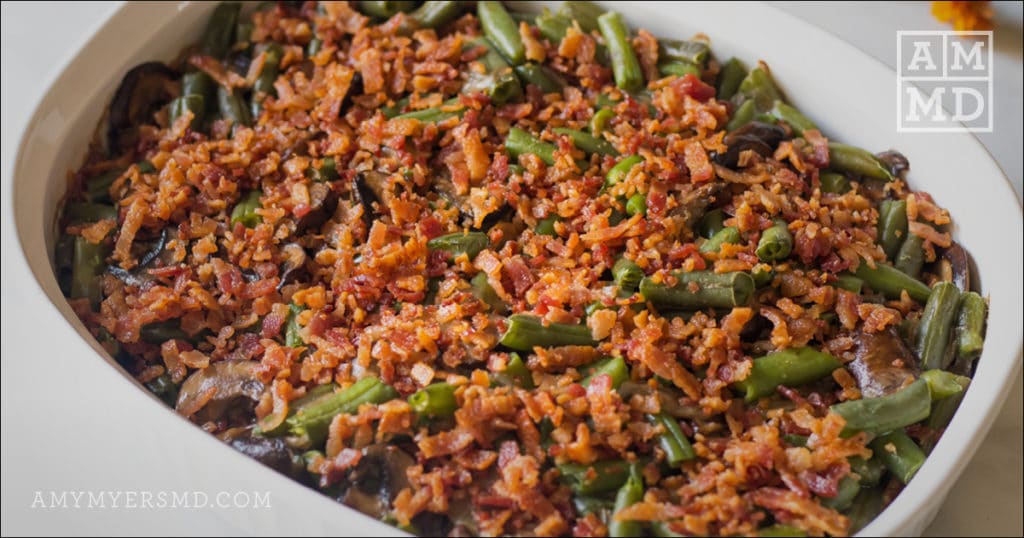 Ingredients
1 cup onion, diced
1 8 oz package mushrooms, stemmed and sliced
2 Tbsp coconut oil
1 cup full fat coconut milk
1 1/2 Tbsp arrowroot starch
1 1/4 tsp fine sea salt
1 lb green beans, trimmed
1 lb bacon, cooked until crispy
Instructions
Preheat oven to 350°.
Heat a stockpot over medium heat, and melt coconut oil. Add the onion and cook, stirring occasionally, until golden brown. Add mushrooms and cook until they turn dark.
Add coconut milk and sea salt and bring to a boil. Once boiling, whisk in arrowroot starch until well combined. Whisk until mixture begins to thicken, about 1 minute.
Reduce the heat to medium and cook until mixture is very thick, about 5 minutes, stirring occasionally.
While the sauce thickens, bring a large pot of water to a boil. Add the green beans to the pot, and cook until they become just barely fork-tender, about 7-8 minutes. Strain green beans into a bowl of ice water to stop them from cooking further.
Chop the bacon very finely until small crumbs form.
Add the green beans into the sauce, along with half the bacon and stir until well coated. Press into a 9×9 inch pan and cook until bubbly for 15 minutes.
Remove casserole dish from the oven, and sprinkle remaining bacon on top of the mixture. Return to oven and bake for 5 minutes.
---
Grain-Free Bacon, Apple, and Sweet Potato Stuffing
Stuffing is one of most delicious parts of any holiday table — the meal just isn't complete without it! Most stuffing recipes are full of gluten and grains, though.Luckily, this grain-free stuffing recipe is perfect for those who eat Paleo or follow any of The Myers Way® Protocols!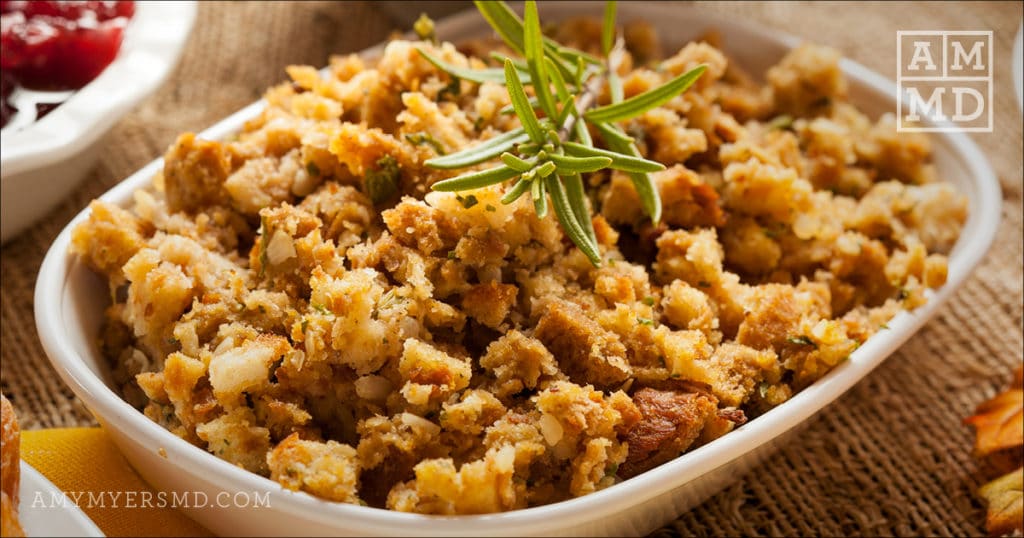 Ingredients
3 sweet potatoes, peeled and cubed
2 yellow onions, diced
5 stalks celery, chopped
2 apples, chopped
8 pieces nitrate-free bacon, diced
1/2 cup coconut oil
1/3 cup bone broth
1 Tbsp apple cider vinegar
2 tsp garlic powder
1 tsp rosemary
1 tsp thyme
1 tsp oregano
1 tsp black pepper
1/2 tsp sea salt
Instructions
Preheat oven to 375° F.
Grease large baking sheet with coconut oil and evenly spread out sweet potatoes on sheet.
Season sweet potatoes with garlic, rosemary, thyme, oregano, pepper, and salt.
Bake until sweet potatoes start to brown (about 40 minutes).
In a large skillet, cook coconut oil and bacon over medium-high heat.
Add chopped apples, celery, and diced onions. Cook until onions become translucent.
Place cooked mixture in a large bowl to cool. Add bone broth and sweet potatoes. Mix well.
Place the mixture on baking sheet greased with coconut oil. Bake at 375°F until browned (about 20 minutes).
---
Healthy Glazed Baked Ham
Whether you're baking for a holiday or doing meal prep for the week, this Healthy Glazed Baked Ham is sure to hit the spot. Made with healthier, whole food ingredient swaps, this ham is better for you than traditional recipes and suitable for Paleo and AIP diets. Enjoy this Healthy Glazed Baked Ham with roasted vegetables and a fresh spring salad to make any meal a nutritious celebratory occasion.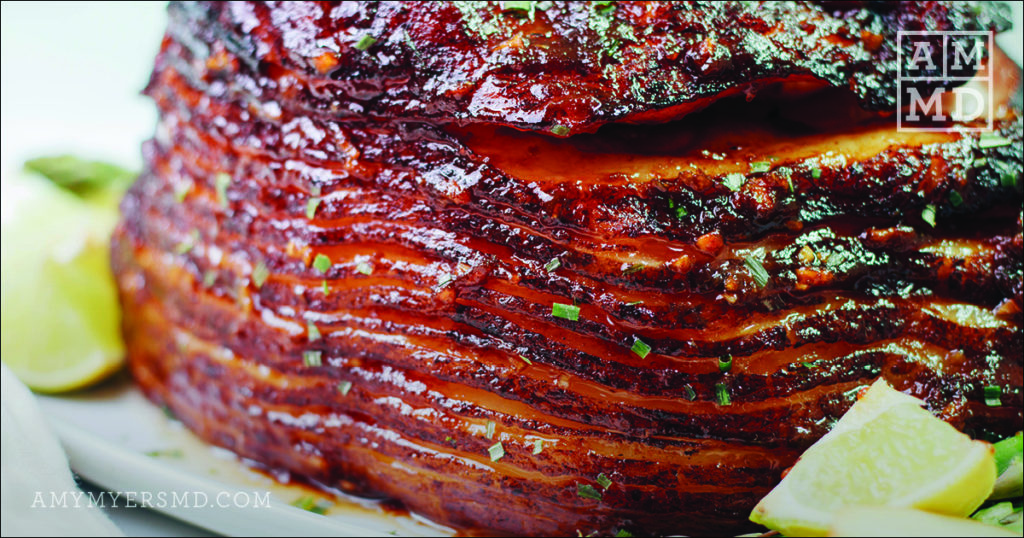 Ingredients
1 bone-in spiral cut ham (approximately 8-9 pounds)
1/2 cup raw honey
4 cloves garlic, finely minced
1/4 cup apple butter
3 Tbsp apple cider vinegar
1 Tbsp arrowroot starch
Instructions
Allow ham to sit at room temperature for an hour and 45 minutes before making glaze.
Preheat your oven to 325 degrees F, and position your oven rack on the lowest rack.
Prepare glaze while oven is preheating. In a medium saucepan, whisk together the honey, garlic, apple butter, and vinegar. Bring to a simmer, stirring often, until honey liquifies, about 3-4 minutes. Reduce heat to low, sprinkle in arrowroot starch, and whisking well to thicken. Remove glaze from stovetop and set aside.
Prepare your roasting pan by adding about 2 cups of water to the bottom of a roasting rack. If you don't have a roasting rack, you can skip this step. Alternatively, you can use a rimmed baking sheet or glass baking dish.
Lay 2 large pieces of foil on a flat surface, with edges overlapping in the center. Place your ham in the center of your foil, and brush ham with ½ the glaze. Be sure to cover the ham completely, adding the glaze between the slices as well. Place glazed ham on the foil, flat side down, and wrap tightly. Place ham flat side down on your roasting rack or in baking pan.
Bake ham until the center registers 100-110 degrees F. This will take about 10-14 minutes per pound, so at least 80 minutes for an 8-pound ham. Remove ham from oven and increase oven temperature to 400 degrees F.
Unwrap ham from foil, and spoon juices from the bottom of the pan all over ham. Brush ham all over with ½ of the remaining glaze. You may need to return the glaze to the stovetop to liquify a bit prior to this step. Discard foil.
Return the ham to the oven uncovered, spooning juices over ham every 10 minutes, until internal temperature reaches 140 degrees F (about 20-30 minutes total).
If you'd like to caramelize the edges, turn oven to broil and leave ham on the bottom rack of your oven. Watch carefully to ensure the ham doesn't burn.
Remove ham from oven and spoon juices from bottom of pan again all over ham and brush again with remaining glaze. Loosely cover with foil and allow to rest for 15 minutes so the juices can reabsorb into the ham.
---
AIP & Paleo Holiday Gingerbread
My mom made gingerbread cake and cookies from scratch when I was growing up, so I'm excited to share with you this autoimmune-friendly, Paleo version of my mom's famous Gingerbread! I absolutely love the fragrant spices of Gingerbread: cinnamon, cardamom allspice, cloves, and of course–ginger! Serve this at Thanksgiving or your next holiday gathering. I promise it will be a huge hit!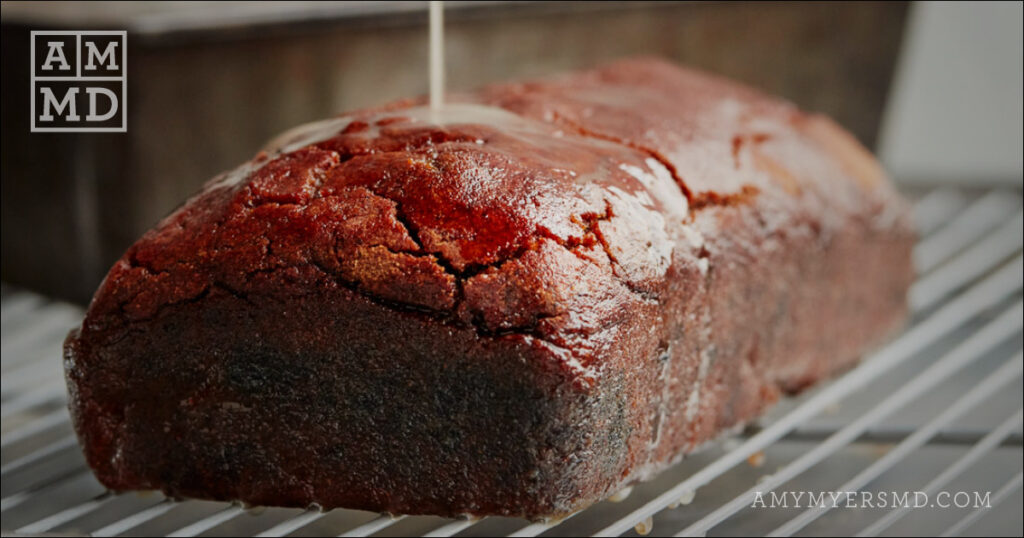 Ingredients
Cake
1 cup cassava flour
2/3 cup coconut flour
1/3 cup arrowroot flour
1 Tbsp The Myers Way® Gelatin
2 tsp baking soda
2 tsp ground cinnamon
2 tsp ground ginger
1 tsp ground cardamom
1 tsp ground allspice
1/2 tsp ground cloves
1/2 tsp cream of tartar
1/2 tsp fine sea salt
1 cup unsweetened applesauce
3/4 cup filtered water
1/4 cup coconut oil
1/3 cup maple syrup
1 Tbsp vanilla
Glaze
1/4 cup coconut butter
2 Tbsp maple syrup
2 Tbsp filtered water or full fat coconut milk
Instructions
Heat oven to 350 degrees F. Grease an 8-by-4-inch loaf pan with melted coconut oil.
To make the cake: In the bowl of an electric mixer, combine the cassava flour, coconut flour, arrowroot flour, gelatin, baking soda, cinnamon, ginger, cardamom, allspice, cloves, cream of tartar, and sea salt. On low speed, mix the dry ingredients together.
Add the applesauce, water, coconut oil, maple syrup, and vanilla to the dry ingredients and mix at medium speed for 1 to 2 minutes. The batter will be thick.
Pour in the prepared pan and bake for 50 minutes, until a toothpick in the center comes out clean.
To make the glaze: In a saucepan, combine the coconut butter, maple syrup, and water over low heat until a glaze forms. Whisk together and set aside.
Remove cake from the oven and let cool completely before turning out of the pan. Pour glaze on top and slice to serve.

Additional Resources
For more healthy holiday swaps, check out my interview with Robb Wolf, where we discuss sustainable eating and how to make Paleo family-friendly.