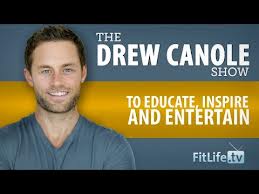 Drew Canole is a Nutrition Specialist, Transformation Specialist, and national spokesperson for the benefits of juicing vegetables for health and vitality. He is the founder of Fitlife.TV where he shares "Educational, Inspirational and Entertaining" videos and articles about health, fitness, healing and longevity.
Drew Canole's transformation clients include celebrities, entrepreneurs, CEO's, authors, and personal development gurus.
The success of his first book on Juicing Recipes vaulted him to national attention as a first time author and has garned media and television attention in the form of book deals, TV talk show hosting and national endorsements from some of the leading national companies focused on health, wellness and athletics.
Click the media player below to listen to the podcast.
The Myers Way Episode 15: Juicing 101 with Drew Canole
Drew, how did you get into juicing?
What is juicing?
What are the benefits of juicing?
Benefits of juicing vs smoothies?
What are some pit falls you see with juicing?
Explain juice fasting?
What is your favorite juice?
What's the best type of juicer and your favorite brand?
How can people get in touch with you?
Join Drew and Juicing Vegetables on Facebook here.
For FitLife TV click here.